Our 10 Best Moments in 2019
Let's take a look at some of our favorite moments from 2019!
1. Dr. Tomasik visited the Dominican Republic on another successful dental mission trip.
(https://www.youtube.com/watch?v=khhl7ie5RiQ&feature=youtu.be)
Dr. Tomasik made his 5th dental mission trip to the Dominican Republic to help local families in the communities surrounding the Makarios School. Dr. Tomasik was joined by four other wonderful dentists, and together, they were able to not only offer dental care to all of the kids but also the Makarios teachers, staff, and other community members.
What made this trip really special was being able to hold "open forums" in the communities. These Q&A sessions allowed locals to come and ask questions about dental health, giving Dr. Tomasik a chance to share basic knowledge of dental care for kids and adults alike.
We want to say a special thank you to our Tomasik Family Dental patients. If it wasn't for your support, Dr. Tomasik wouldn't be able to go on these special mission trips.
2. We introduced the Tomasik Dental Membership Plan to make care more affordable.
At Tomasik Family Dental, we try to do our very best to make our dental services affordable. No one should go without dental care, but we found that a lack of insurance was a popular factor among patients waiting to see us for treatment due to finances. That's where our Tomasik Dental Membership Plan comes into play.
Our Dental Membership Plan allows you to pay a one-time annual membership fee that covers a number of free preventive care services and provides a discount on other treatment options. You can find out more about this program on the Tomasik Dental Membership Plan page.
3. We had fun personally testing our relaxing patient comfort items.
Here at Tomasik Family Dental, we're all about making sure our patients feel as comfortable as possible. Many people experience anxiety during dental services, and we do our best to make sure our dentistry approach puts our patients at ease. Hance, one of our dental assistants, decided to try out some of our comfort items himself. We offer cooling eye masks and warm towels to help you relax, as well as lip balms to keep your lips moisturized. You can even ask for an iPod, so you can listen to music, or we can give you a warm blanket if you feel a bit chilly.
For more information on our comfort and sedation dentistry services, check out this page.
4. We helped a patient who was unhappy with her veneers and crowns.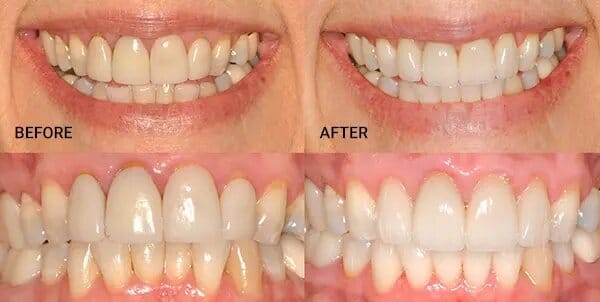 Plenty of cosmetic dentists offer veneers and crowns, but that doesn't mean the final look is going to be the smile you've always dreamed of. This patient came to Tomasik Family Dental because she was unhappy with the appearance of the veneers and crowns that had been applied by a different dentist. With the skill of Dr. Tomasik and our talented, artistic ceramists, this patient was able to get a complete makeover and walk out of our office with the smile she had always wanted.
5. We snapped this picture showing why busy parents love Tomasik Family Dental.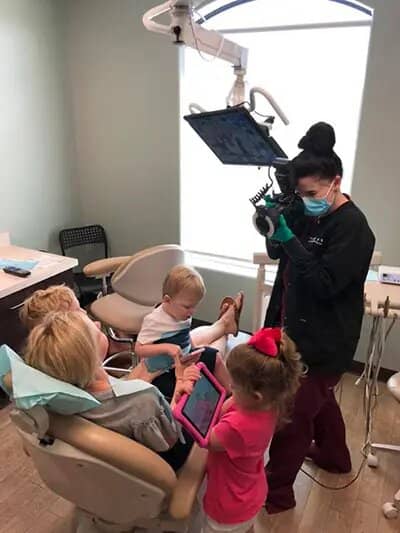 Being a family dental practice, the Tomasik Dental team loves getting to know our patients' families. We know how busy parents can be, so we try to be as accommodating as possible by allowing youngsters to accompany their parents during appointments. We captured this heartwarming picture of a busy mom at her appointment with her three children alongside.
6. Our patients left us some wonderful reviews reminding us why we love our jobs.
"A very kind, accommodating, well-run practice. All of the staff are very caring and helpful. Everyone goes out of their way to communicate and make sure you're very comfortable." —Andrew B.
"Nice atmosphere and clean office. The staff was incredibly friendly, and their quality of care during my visit was exceptional. The doctor was very informative and took his time to explain my visit and answer any questions I had. Would highly recommend to anyone looking for a quality dental office." —Angel Lambert
We love hearing from our patients. The positive reviews remind us why we love working in the dental industry, and they make us feel proud to be a part of the Tomasik Family Dental team. When a patient's review points out a problem, it only serves as constructive criticism to help us improve our practice even further.
You can read more reviews and testimonials on our website.
7. Invisalign straightened this patient's teeth with incredible results.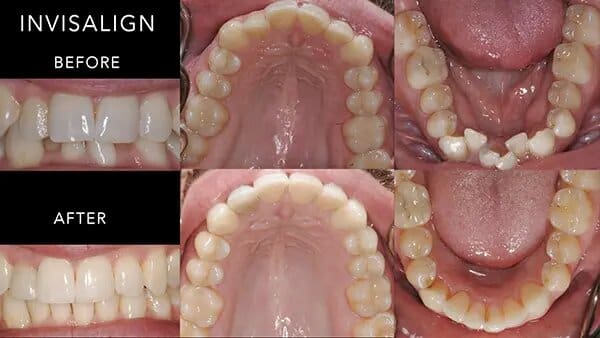 A common question we get from patients interested in straightening their smile is "Are my teeth too crooked for Invisalign?". The majority of the time, the answer is a resounding no. Invisalign is highly effective, and this patient is a wonderful example of how well Invisalign can fix crooked, crowded teeth.
8. A smile restoration with implants brought fullness back to this patient's face.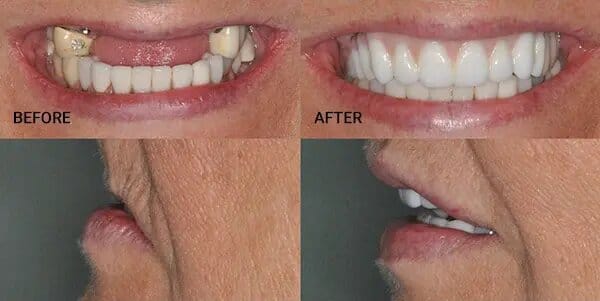 We were able to help many patients with missing teeth restore their smiles with dental implants this year, but this was one of our favorites. By using dental implants, we were able to help this patient completely transform her smile and drastically improve her comfort. In this before and after picture, you can also see what a huge difference it made to her facial structure by adding fullness to her upper lip and mouth.
9. We made kids and parents alike happy with our 10th Annual Halloween Candy Buyback.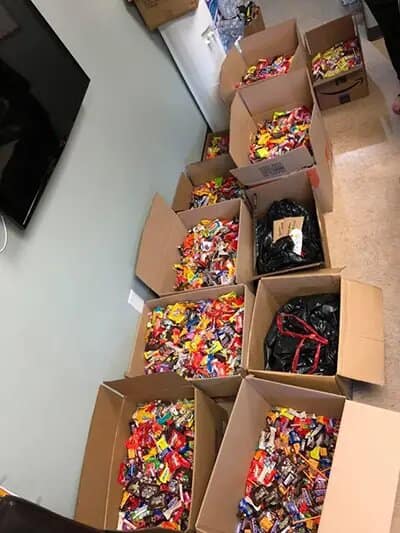 For many kids, a successful Halloween means coming home with mountains of candy. But what do our kids love even more than candy? Cold hard cash! This year was our 10th Annual Halloween Candy Buyback. For every pound of candy donated, we gave $1 back, with a limit of $5 per child. We also held drawings for some really fun prizes for the adults, as well.
Once again, we gave the donated candy to Operation Gratitude. As parents and dental professionals, we like to keep candy to a minimum, but for our military, these sweet treats can be a huge morale boost. We also gave to Mobile Loaves and Fishes, a very important Austin, TX, organization that serves the homeless.
10. Tomasik Family Dental donated to CavLounge and gave back to patients with free dental services.
(https://www.youtube.com/watch?v=0AsSAnAE9jM&feature=youtu.be)
Giving back to our community and striving to make a positive impact has been important to Tomasik Family Dental from the very start. In September, we decided to put our efforts toward donating to CavLounge, an organization based at Lake Travis High School that helps ensure no student goes without clothing, food, school supplies, and other important items.
To help out CavLounge, we started a donation campaign with our Tomasik Family Dental patients. We encouraged every patient to bring in an Amazon or Target gift card in any amount. In return, for the first $2,000 donated, we credited the same amount gifted (up to $100) to every patient's account.
Helping out a community organization and getting free dentistry services in return? We call that a win-win.
Thank you for helping us make 2019 a great year for Tomasik Family Dental. We can't wait to see you in 2020!