YOUR FAMILY DENTIST IN BEE CAVE, TX
Tomasik Family Dental's philosophy on dental care centers around comfort, customer service, and customized care. We provide a highly personalized experience where each individual receives treatment tailored completely to their needs.
We also believe in patient empowerment. Our team will always present and help you understand all available treatment options. But, ultimately, it's you in the driver's seat making the decisions about what path you'd like to take.
Our valued patients keep coming back to us because our team goes the extra mile to provide personal touches. So if you're looking for a trusted family dental practice in Bee Cave, contact us today.
Dr. Tomasik & his team are the best. They are professional, kind, and thorough. If you're considering a dentist in the Bee Cave/Lakeway area - be sure to make Tomasik Family Dental your spot!
JOEY R.
Why visit Tomasik Family Dental?
Dr. Tomasik lived all around the country as a kid but spent most of his time in the Florida panhandle. He was always drawn to a career in health care and enjoys the blend of science and art that dentistry requires. Dr. Tomasik is a graduate of the University of Texas and Baylor College of Dentistry. Both he and his wife are Longhorns and were eager to move back to Austin as soon as he finished dental school.
Dr. Tomasik started Tomasik Family Dental in Bee Cave in 2010 and hasn't looked back. He has undertaken additional training in full mouth restorations, Invisalign, dental implant surgery, and TMJ (temporomandibular joint) disorders. Dr. Tomasik enjoys giving back and regularly goes on dental mission trips around the world. So far he has been to Brazil, the Dominican Republic, Honduras, Mexico, and Colombia.
Dr. Tomasik is married to Lindsay and is blessed with two kids, Ava and Joshua. Outside of work, Dr. Tomasik loves spending his time outdoors, particularly on the golf course, on the lake, or out at the ranch.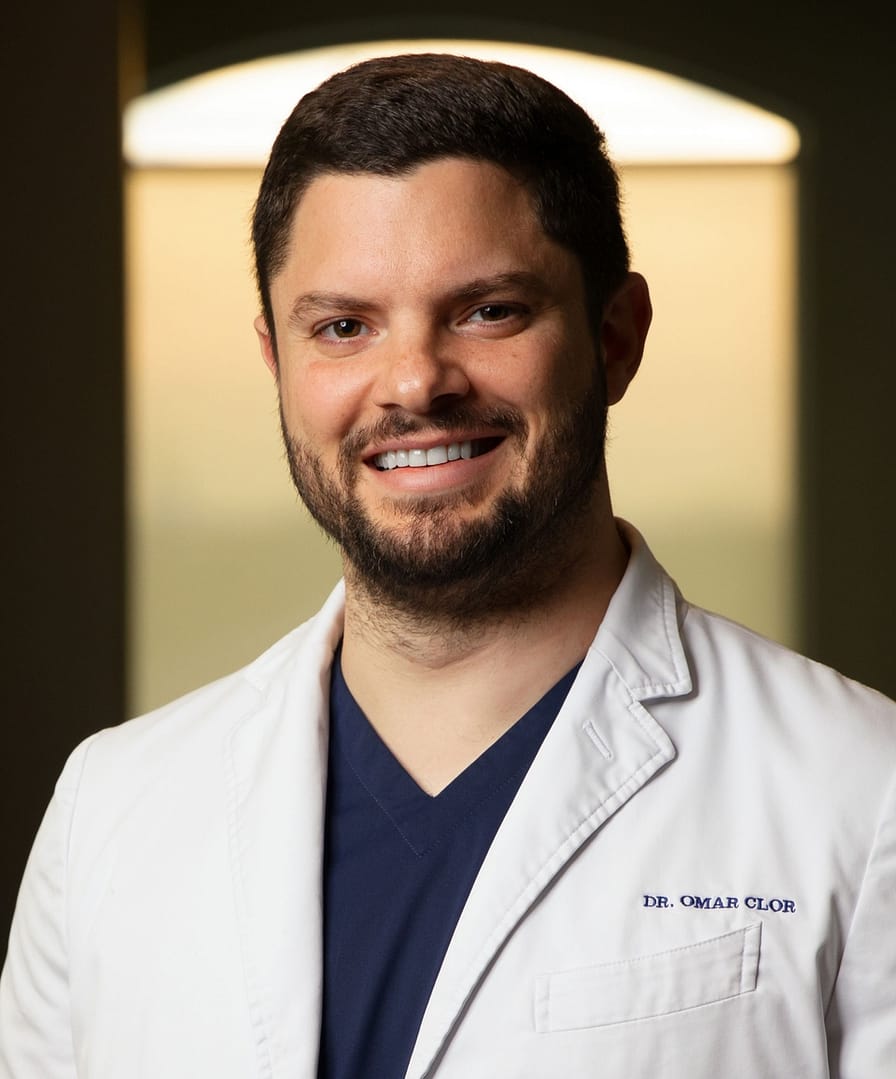 Dr. Clor comes from a medical family: His father is a medical doctor, and his mother was a dentist. He wanted to follow in his parents' footsteps while doing something artistic and working with his hands. After graduating from the University of Iowa, Dr. Clor earned his Doctor of Dental Medicine degree from the Boston University School of Medicine. He went on to serve three years in the United States Air Force as an active duty commissioned officer, treating military members at Robins Air Force Base in Georgia. Dr. Clor won several awards during his military career, but he says his greatest achievement is meeting the dental needs of the men and women who serve our country. After his stint in the military, Dr. Clor decided to move to the Austin area to be closer to family and friends and to enjoy the warmer climate.
Like many others, Dr. Clor hated going to the dentist as a child. That's why he strives to provide the highest-quality dentistry possible and always ensures patients are comfortable throughout their treatments. Additionally, Dr. Clor has advanced training in general dentistry and prosthodontics.
Outside of work, Dr. Clor loves spending time with his wife, Jaclyn, and their two kids, Roman and Elle. He also enjoys photography, computer building, electric guitar, and soccer. And he is a devoted New England Patriots fan!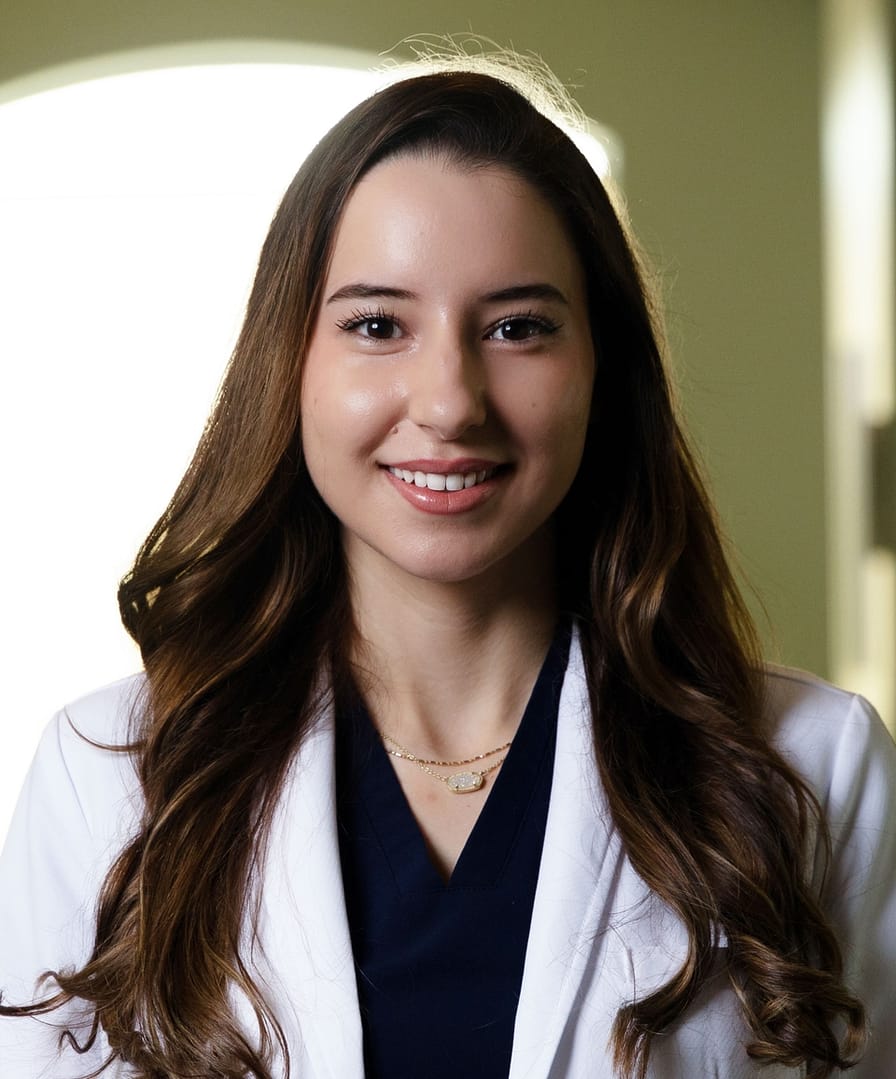 Dr. Al-Farra always knew she wanted a career in health care. During her undergraduate studies, she volunteered at a free dental clinic and decided dentistry was for her. After graduating from the University of Texas at Arlington, Dr. Al-Farra went on to earn her Doctor of Dental Surgery degree from the University of Texas Health Science Center at San Antonio.
Dr. Al-Farra has completed additional education in full mouth reconstruction, oral sedation, and Invisalign. She loves using the latest in dental technology to ensure a high standard of care for her patients. She also enjoys educating patients on the advantages of a well-aligned bite and the long-term health benefits of a beautiful, healthy smile.
When she's not working, Dr. Al-Farra likes to stay active through pilates, tennis, and ballet classes. She also enjoys traveling to new places, being surrounded by good food, and spending time with her family and friends.
Our highly experienced dentists are supported by a dedicated team of professionals, including:
Customer Care, Scheduling, and Finance
From booking appointments to welcoming you to the practice with a smile, our customer care, scheduling, and finance team is here to make each visit a pleasant one. They are great at helping you navigate insurance and keeping your dental care as affordable as possible. We also offer a membership plan for individuals and families so you can stay in control of your own dental care. Ask us for more info. [link to widget]
Dental Hygienists
Our dental hygiene team provides you and your family with initial evaluations, preventive cleanings, and fluoride applications. They can also advise on good oral health and proper home care, among other topics.
Dental Assistants
Our dental assistants focus on patient comfort and safety during treatment. They play a valuable supporting role to our dentists and ensure all patients have positive experiences at Tomasik Family Dental.
General Dentistry
INVISALIGN
SEDATION DENTISTRY
No insurance? No problem.
Tomasik Family Dental provides customized care for the individual. We believe in empowering our patients to make their own dental-care decisions. Contact our friendly team today to make an appointment.
Tomasik Dental Membership Plan
INDIVIDUAL
$305/yr
ADDITIONAL
MEMBER(S)
$279/yr